TLM Music Publications
* * * * * * * * * * * *
For several years now, TLM Music Publications has specialized in editions of all those pieces that everyone knows but no-one knows the title of. All those pieces that are used as background music for TV ads, as "holding" music on telephone switchboards, as piped music in stores. Pieces like Handel's Arrival of the Queen of Sheba, or the Minuet from Boccherini's String Quintet In E, or the Rondo from Mozart's Horn Concerto No. 4, or Mozart's Eine Kleine Nachtmusik. Don't recognize the titles? Exactly my point: it's a virtual certainty you would recognize the music if you heard it, though.
There are dozens of titles available right now - scores and parts - and our prices are lower than anyone else's, because TLM isn't a commercial enterprise. There has to be a small charge to cover production and carriage costs, but that's all. There has never been a catalogue as such - basically, if we haven't already got it, and provided it's out of copyright (i.e. the composer has been dead for more than 70 years) and we can get hold of a score to work from - we'll produce a score and parts for you, even "to spec" - special transpositions and so on. But we do not undertake any editing or arranging - for example, if you want a piano duet version of a Brandenburg Concerto, or a wind quintet arrangement of a Beethoven symphony, you'll have to get someone else to do the arranging (we'll be perfectly happy to print the score and parts for you, though). Just don't expect these to appear "yesterday" - TLM is a hobby side-line and, as such, it has to take second place if there are other more pressing commitments.
In short, whatever you are looking for, ask TLM - you never know, we might have a copy just waiting for you!
Here are just a few of the pieces that are available immediately:
---
Composer: Handel, George Frederick
Title: "Arrival of the Queen of Sheba"
From: Oratorio Solomon
Instrumentation: 2 Oboes & Strings
MIDI file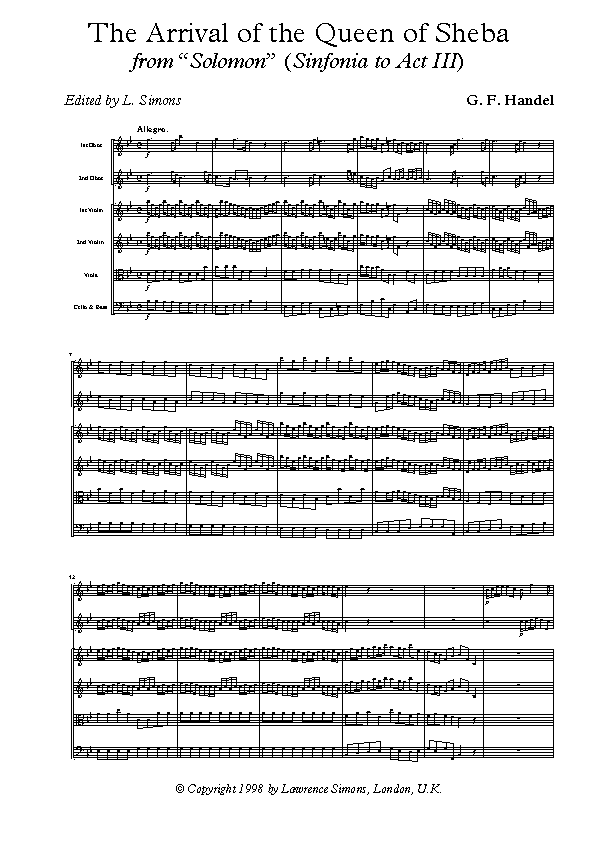 ---
Composer: Boccherini, Luigi
Title: Minuet
From: String Quintet in E
Instrumentation: 2 Violins, Viola & 2 Cellos
MIDI file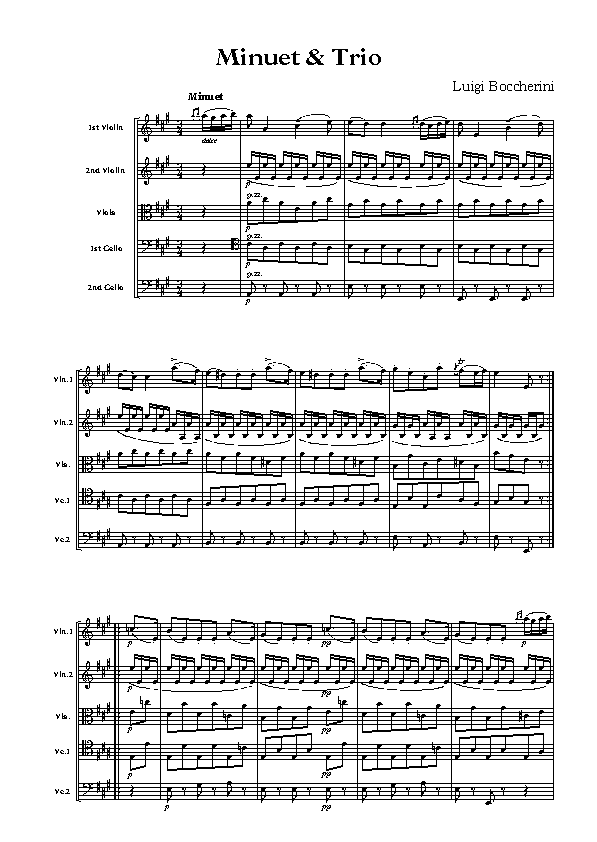 ---
Composer: Mozart, Wolfgang Amadeus
Title: Rondo
From: Horn Concerto No. 4 in E-flat
Instrumentation: Solo Horn, 2 Oboes, 2 Horns & Strings
MIDI file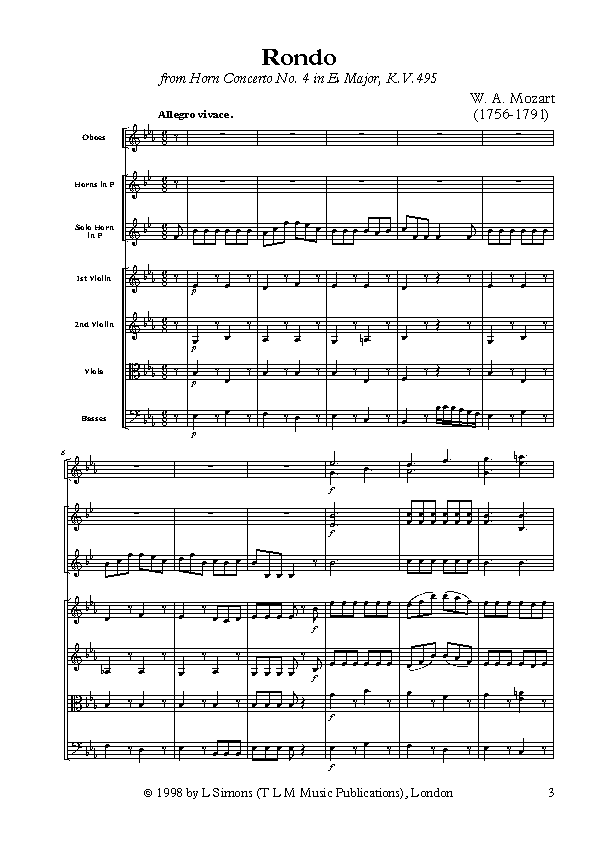 ---
Composer: Mozart, Wolfgang Amadeus
Title: Eine Kleine Nachtmusik (complete)
Instrumentation: Strings
MIDI file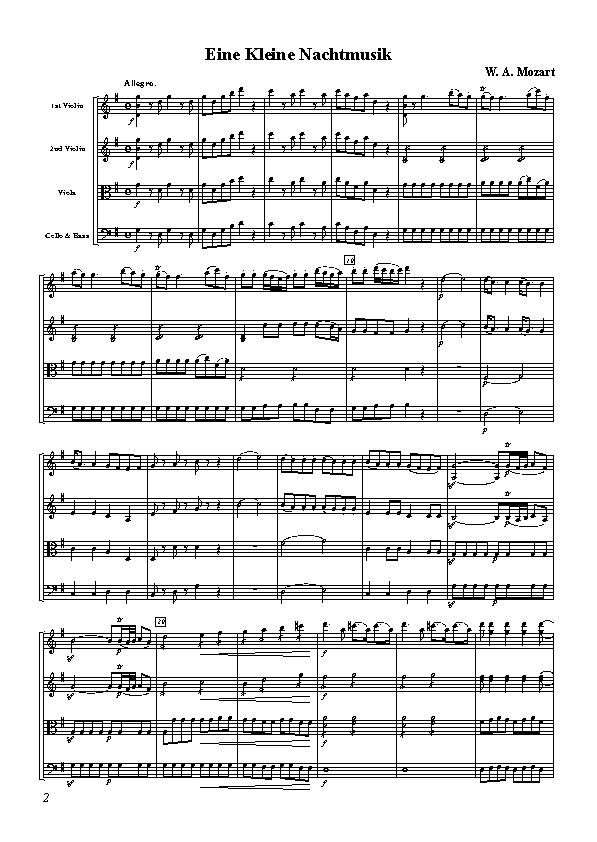 ---
Composer: Bach, Johann Sebastian
Title: Brandenburg Concerto No. 5 in D (complete)
Instrumentation: Solo Flute, Solo Violin, Strings & Piano/Harpsichord
MIDI file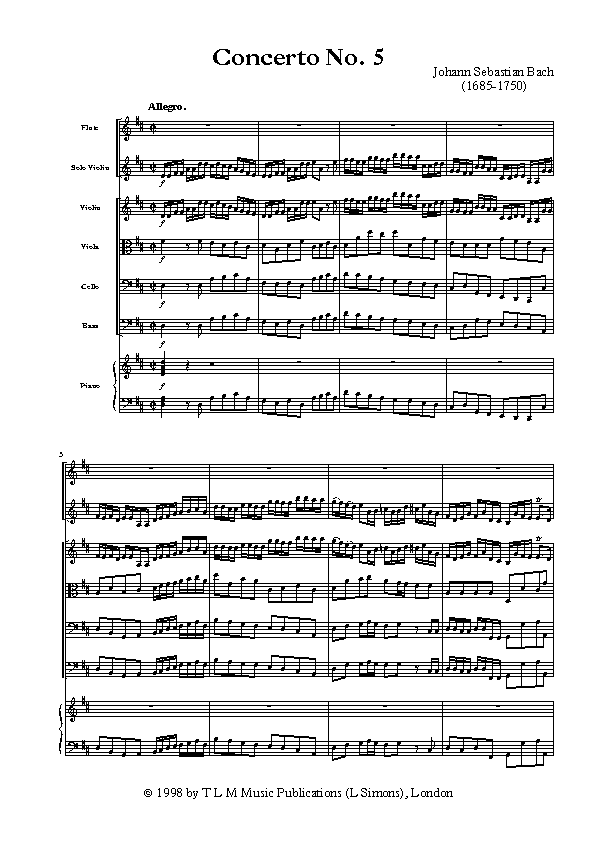 ---
TLM Music Publications Home Page